Many families are still afraid, thinking that vocational training is only for "bad" students.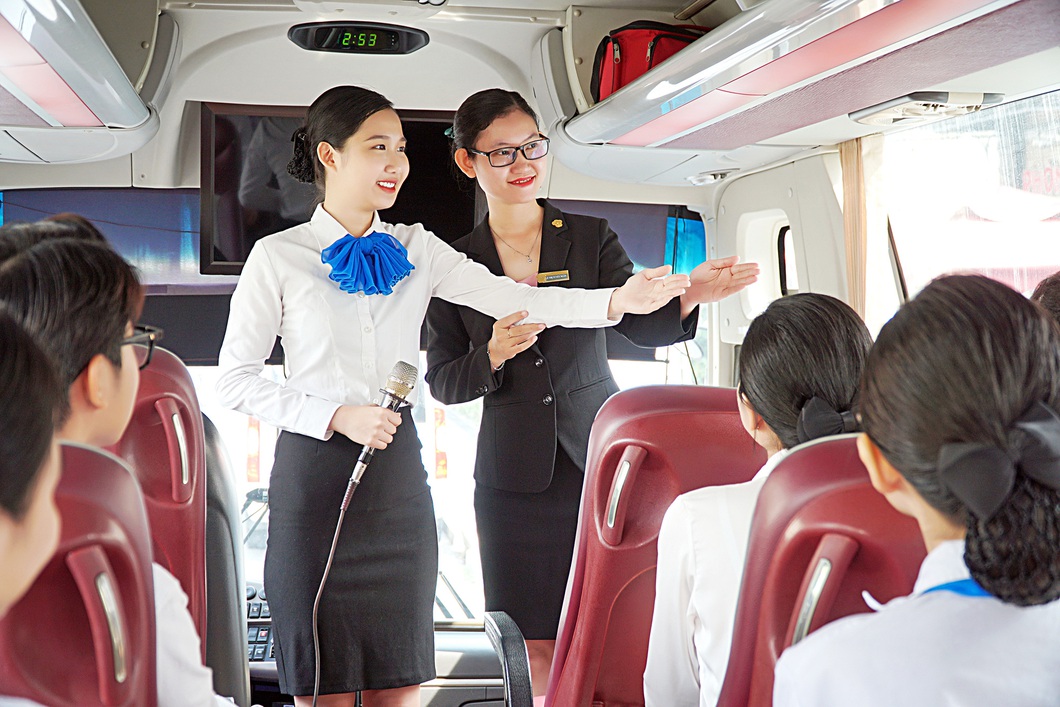 Ho Chi Minh City has about 96,000 candidates taking the 10th grade exam. But public high schools in the city only recruit 70% of these.
So, what is the turning point for about 20,000 students who cannot enter public schools this year?
Free vocational training
Master Nguyen Quoc The principal of Van Hanh Intermediate School of Medicine and Pharmacy (Ho Chi Minh City) said that although there is gradually a positive sentiment among parents with the shift to both cultural studies and vocational training after grade 9 (also known as system 9+),
However, many families are still afraid, thinking that this direction is only for "bad" students.
Mr. The emphasized that the benefit of the 9+ system is that, in addition to optimizing time, students are also fully subsidized by the state for vocational training according to Decree 81 of the government. Regarding tuition for cultural subjects, students only have to pay the same amount as their peers at public schools.
"Exposure to the profession early also helps you join the labor market sooner. If you don't want to go to work early, you can also go to further education at the college or university level if you have a diploma. High school. There will not be the best path, but only the most suitable path for each person," Mr. The said.
Dr. Hoang Van Phuc, principal of Saigon Polytechnic College (HCMC), shared that currently the school has recruited 70% of students for this year's 9+ enrollment season. The remaining 30% will be recruited by the school in a final recruitment round after Ho Chi Minh City announces the public 10th grade standard scores.
According to Mr. Phuc, the admission procedures at vocational schools with the 9+ system are currently quite simple. Students only need to meet secondary school graduation requirements to be able to study. When registering, students will choose an additional profession that they wish to study in the next three years.
Majors that you often choose include information technology, automotive technology, economics, etc.
Associate Professor Dr. Bui Van Hung, principal of Industrial College 2 (Ho Chi Minh City), noticed that in recent years there has been an increasing change in the psychology of parents towards the 9+ system. This change can be clearly seen in the number of recruits. In 2022, the number of students registered for the 9+ system of the school exceeds the target.
More than 11,000 continuing education targets
According to Mr. Cao Minh Quy, Head of the Continuing Education Department of the Ho Chi Minh City Department of Education and Training, in the 2023–2024 school year, the continuing education system will reserve more than 11,000 seats to welcome students who have graduated from secondary school. The centers are spread evenly throughout the districts, ensuring that students do not have to go to school too far.
"Currently, vocational and continuing education centers in Ho Chi Minh City have improved a lot. The facilities in most centers have been renovated and renovated, so the rooms are quite good. comfortable and spacious.
The centers are also given funding to purchase adequate teaching equipment, which is not as lacking as in the past.
Regarding the staff, teachers at continuing education centers are regularly fostered and trained like teachers at high schools.
Not only that, most schools are on the verge of promoting innovation in teaching methods, enhancing extracurricular programs, career guidance, experience, and life skills education.
Students studying in the regular education system will take the exam after grade 12 and receive a high school diploma like students in high school," Mr. Quy said.
A leader of the Ho Chi Minh City Department of Education and Training affirmed: "The "face" of continuing education centers is now very different from before. If you still have concerns, please invite parents and students to come to the center. Stay closest to your home to visit and learn.
It must be admitted that the teaching quality of the continuing education system in Ho Chi Minh City has been improving. Many centers have students scoring very high scores in the high school graduation exam.
Each form of learning has different advantages, and so does the continuing education system. Not only that, but currently some centers are also collaborating with partners to organize students to learn information technology, learn English with native teachers, learn vocational skills, and practice professional sports.".
For example, Chu Van An Continuing Education Center (District 5, Ho Chi Minh City) not only teaches culture according to the program of the Ministry of Education and Training,
This center also organizes English teaching, training students in the four skills of listening, speaking, reading, and writing; teaching information technology according to international programs; and teaching students to play professional sports such as martial arts, badminton, basketball, etc.
In addition, Chu Van An Continuing Education Center also has clubs in science, literature, music, modern dance, martial arts, football, etc.
This center also teaches students free vocational training such as nursing, food processing, beauty care, modeling, tour guides, applied informatics, accountants, etc.
Boldly choose vocational training.
Nguyen Thu Hang is currently a 2nd-year student in the 9+ system at Saigon Tourist Hotel and Tourism Intermediate School. In 2022, Hang did not get into the public high school she wanted. Facing the crossroads after grade 9, Hang was advised by her family to study at an intermediate school under a program that allows her to learn both vocational and cultural studies.
Buổi sáng, Hằng học các môn văn hóa và học nghề buổi chiều. Hằng chọn nghề bartender vì thích pha chế những loại thức uống ngon. Hằng chia sẻ trong chương trình, phần thực hành chiếm 70%.
At first, Hang was not used to it, holding the mixing tools was already difficult, not to mention advanced skills like bottle dancing (flairs). So after each class, Hang stays longer than her friends to practice more on her own.
"One day, I recorded a bottle art clip for my mother to watch. She liked it very much. Seeing that I loved my chosen profession, everyone in the family was happy," Hang said.
370 vocational education institutions
The Department of Education and Training and the Department of Labor, War Invalids and Social Affairs of Ho Chi Minh City recently held a conference to sign a coordinated program of orientation, streamlining and career education for middle and high school students.
Mr. Nguyen Van Hieu – director of the Department of Education and Training of Ho Chi Minh City – said that Ho Chi Minh City has 370 vocational education establishments, with about 2,500 graduates of all levels entering the labor market every year.
Mr. Hieu informed that according to current regulations of the Ministry of Education and Training, vocational education institutions are allowed to teach cultural programs for vocational students right at school.
This creates additional advantages for learners in both vocational and cultural studies to participate in the high school graduation exam, thereby being able to transfer to higher levels of education.